Friends of Mapledurham Playing Fields
Mapledurham Playing Fields are located in Caversham Heights, just off Upper Woodcote Road. While much of the site is given over to sports facilities, there are areas of rough grassland with wild flower margins as well as a regenerated woodland consisting mainly of field maple, elm and oak. An ancient boundary bank is to be found at the woodland edge. In 2010 a community orchard was planted at the site.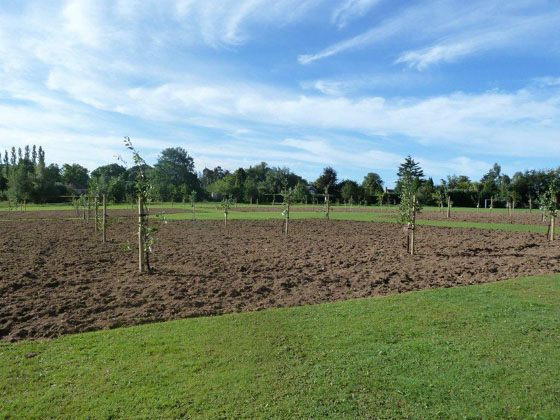 The Friends of group was formed in 1999 and organise monthly tasks generally on the 3rd Saturday of the month from September until April, see Programme for further details.
Photographs from Mapledurham Playing Fields
Contact: Steve (0118) 947 3294 or 07777 681 362
Email: mapledurham@econetreading.org.uk
Reading Borough Council Site Description
Future Activities
Unless stated otherwise tasks are from 9:30 until 13:00. Meet in the community orchard located near the Chazey Road entrance. Full details of current tasks can be found in our Programme.
Sat, 17 Oct 2020Sat, 17 Oct 2020
Sat, 21 Nov 2020Sat, 21 Nov 2020
Sat, 19 Dec 2020Sat, 19 Dec 2020
Sat, 16 Jan 2021Sat, 16 Jan 2021
Sat, 20 Feb 2021Sat, 20 Feb 2021
Sat, 20 Mar 2021Sat, 20 Mar 2021
Sat, 17 Apr 2021
Sat, 18 Sep 2021
No activities currently planned.
Last Updated: 8 October 2020 12:17