CROW (Conserve Reading on Wednesdays)
2003
Victoria Road Cemetery, Caversham ~ Building artifical Badger Sett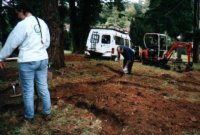 While badgers are often in the news in relation to cattle and bovine tuberculosis, the notoriety of those that reside in the Victoria Road Cemetery, Caversham arises from their extensive excavations which are unfortunately disturbing the graves.
In an attempt to alleviate the problem, it was decided to build an artificial sett - the name given to the system of burrows and chambers dug by badgers - away from the graves and to try to encourage them to use this. Note: Actual date of this task unknown.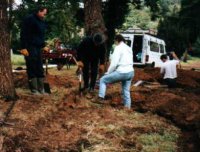 Digging out the trenches.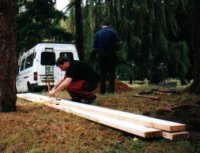 Andy cutting planks.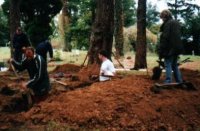 Putting the pipes in the trenches.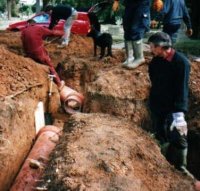 John demonstrating management skills.
Footnote. The latest news is that the badgers remain unconvinced the artificial sett provides a better class of accommodation and regrettably are continuing their burrowing activities.
Created: Sunday, 16th July 2017
Photographs: Unkown