Saturday, 26th April 2014
Caversham Court ~ Bean Pole Day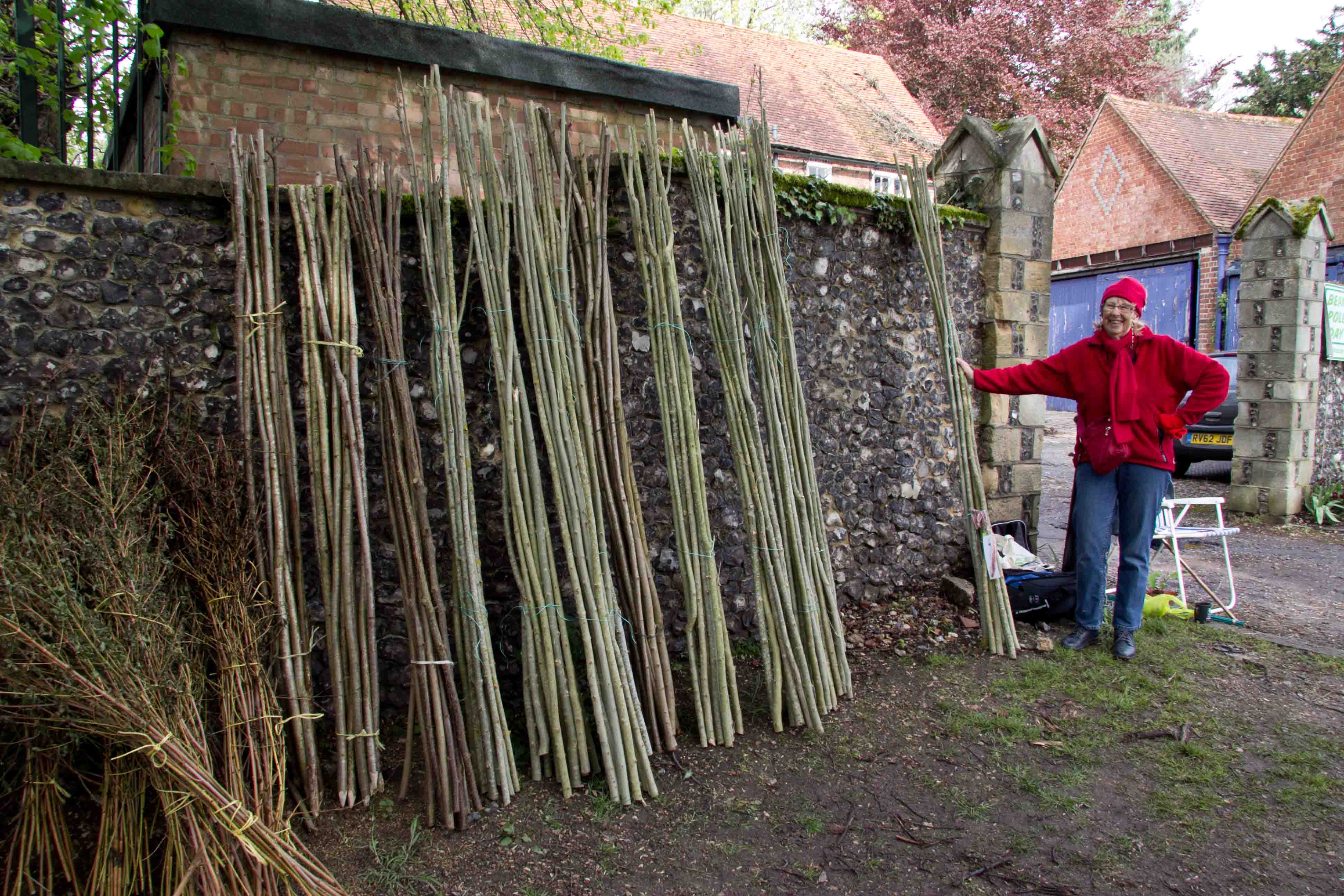 It is now five years since our first Bean Pole Day when Judith and Hoyte sat guard over a few bundles of poles with only the volunteer looking after the Ways and Means plant stall for company, all hoping that some customers would appear. The day must however have been regarded as a success for Bean Pole Day has become an annual event in the Econet calendar.
This year Anne was guarding the bean poles while nearby local willow weaver Christine Brewster had a variety of willow products available including baskets and plant supports made from locally grown willow. While the sale of bean poles and pea sticks remains an important part of the event, we now invite a wide range of local groups to participate with displays and activities promoting woodland products and wildlife friendly gardening.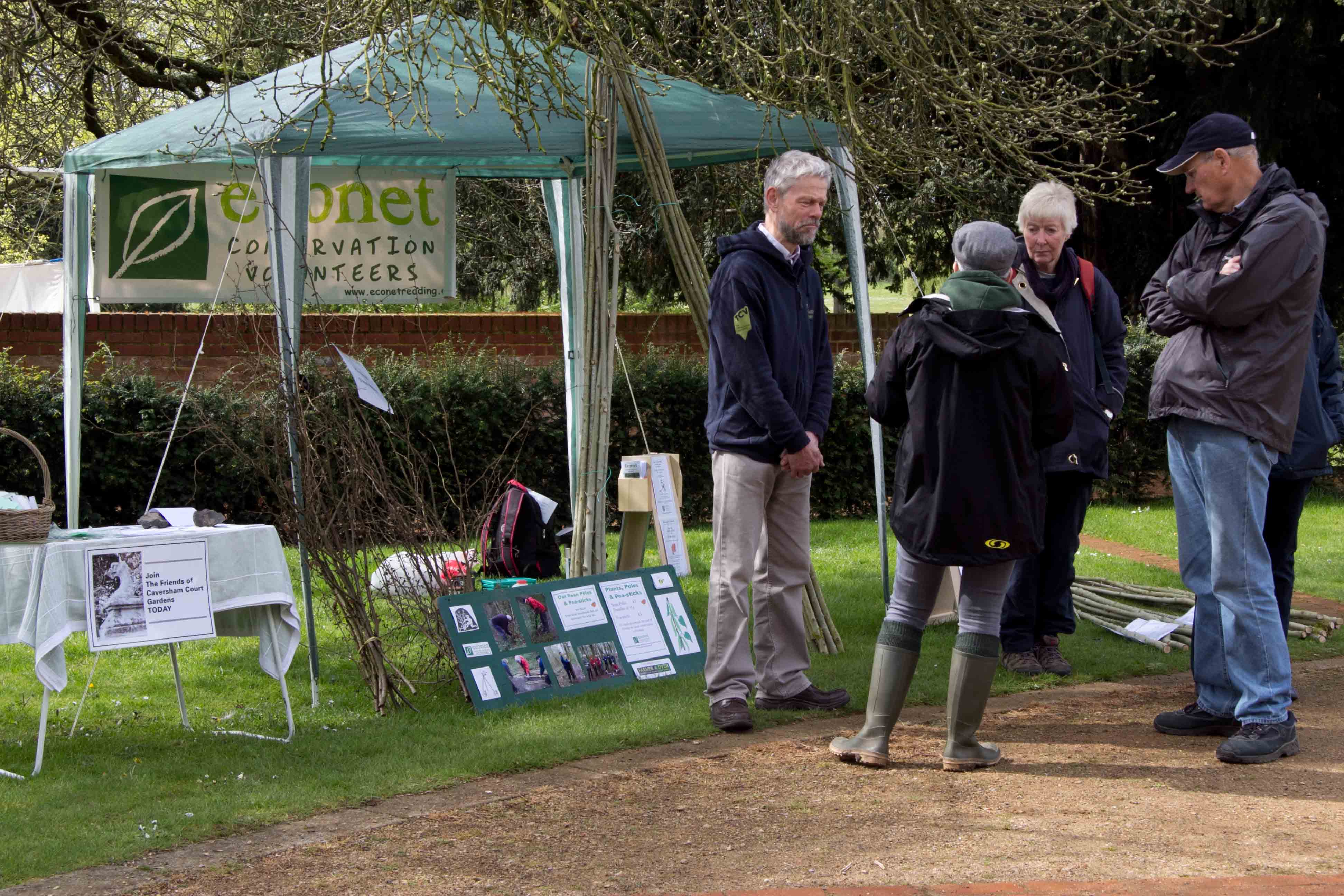 Despite the occasional blustery shower the day was a great success and soon after twelve o'clock all of the bean poles had been sold and we were taking orders. However the day is not just about honing our retail skills but also provides an opportunity to meet people, explain what we do and make new contacts.
The plant stalls offered a wide variety of plants of excellent quality.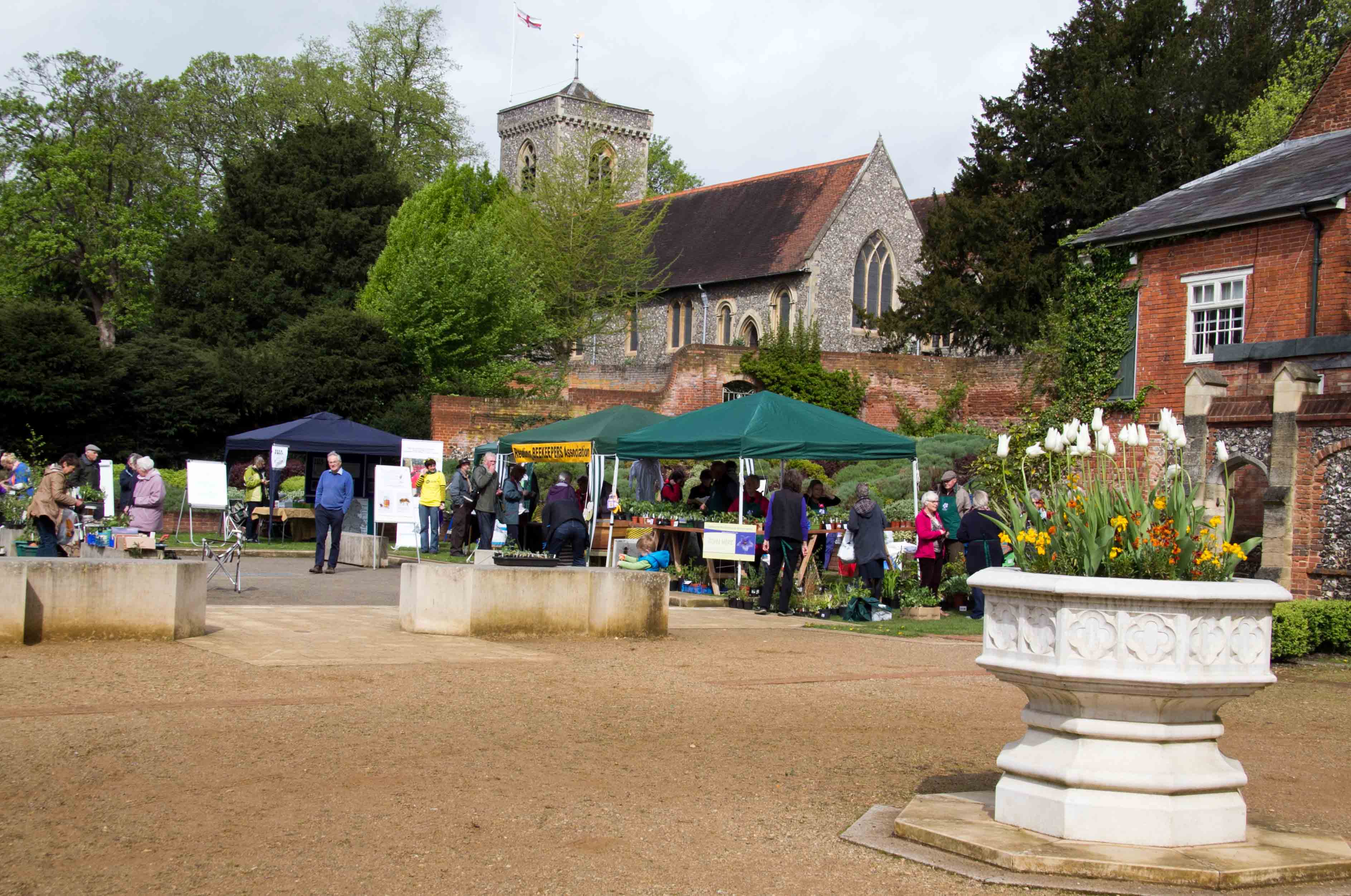 Caversham Court provides a picturesque setting for the event with St Peter's church which dates from the 12th century, in the background. We hope that the wedding party which appeared in the middle of the afternoon were not too disappointed to find us occupying the area where they had apparently planned to take their photographs and that the riverside location they opted for as an alternative was equally acceptable; our best wishes go to the happy couple.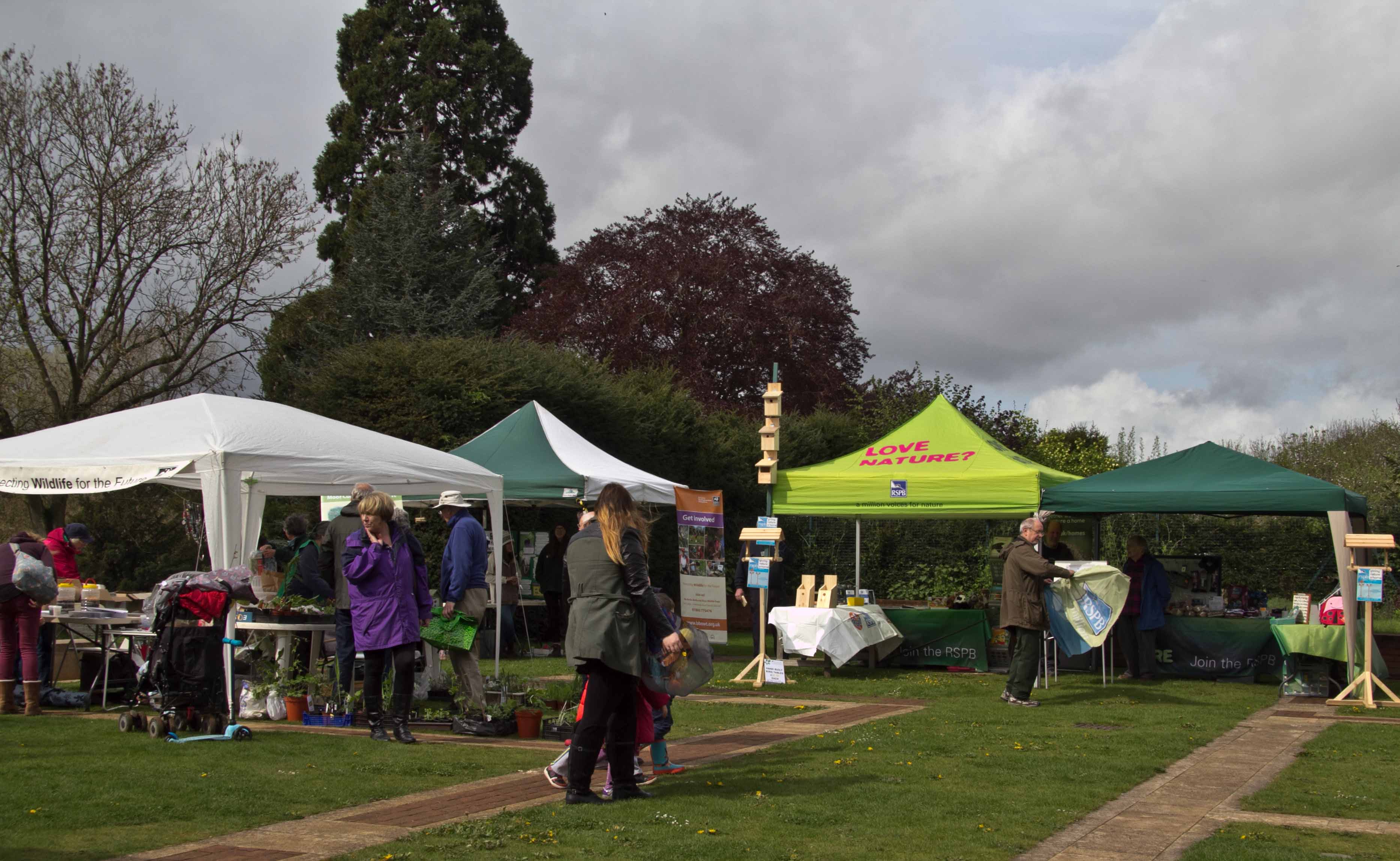 BBOWT and the RSPB were among the local wildlife groups to have stalls at the event.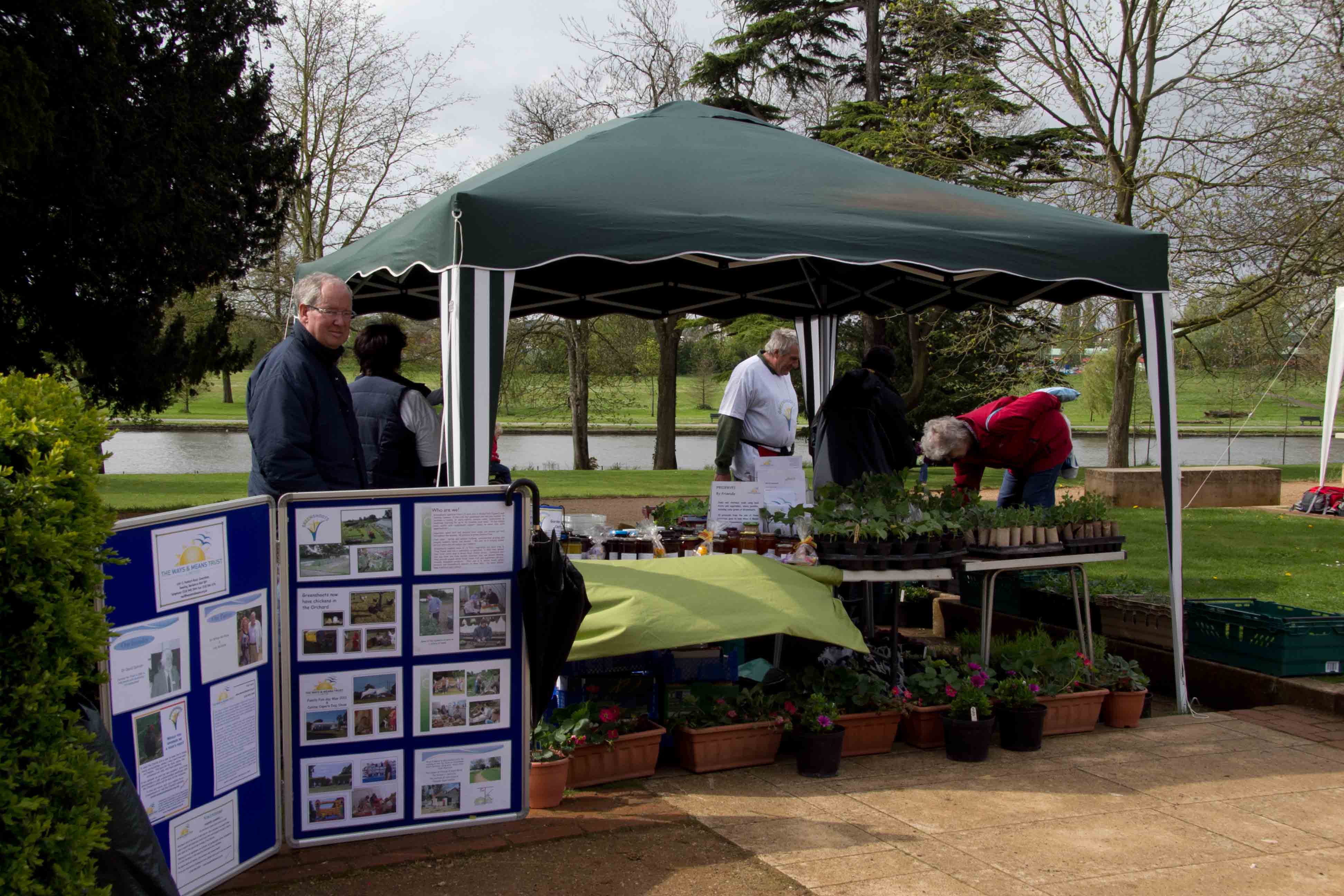 The river also adds to the tranquillity of the site. This year's stallholders included BBOWT, Christine Brewster, Willow Weaver, Friends of Caversham Court, Friends of the Harris Garden, Reading and District Beekeepers, Reading and District Natural History Society, Reading Friends of the Earth, Reading RSPB, RISC/Food4Families, Tilehurst Horticultural Association, Traidcraft and Ways and Means (Greenshoots)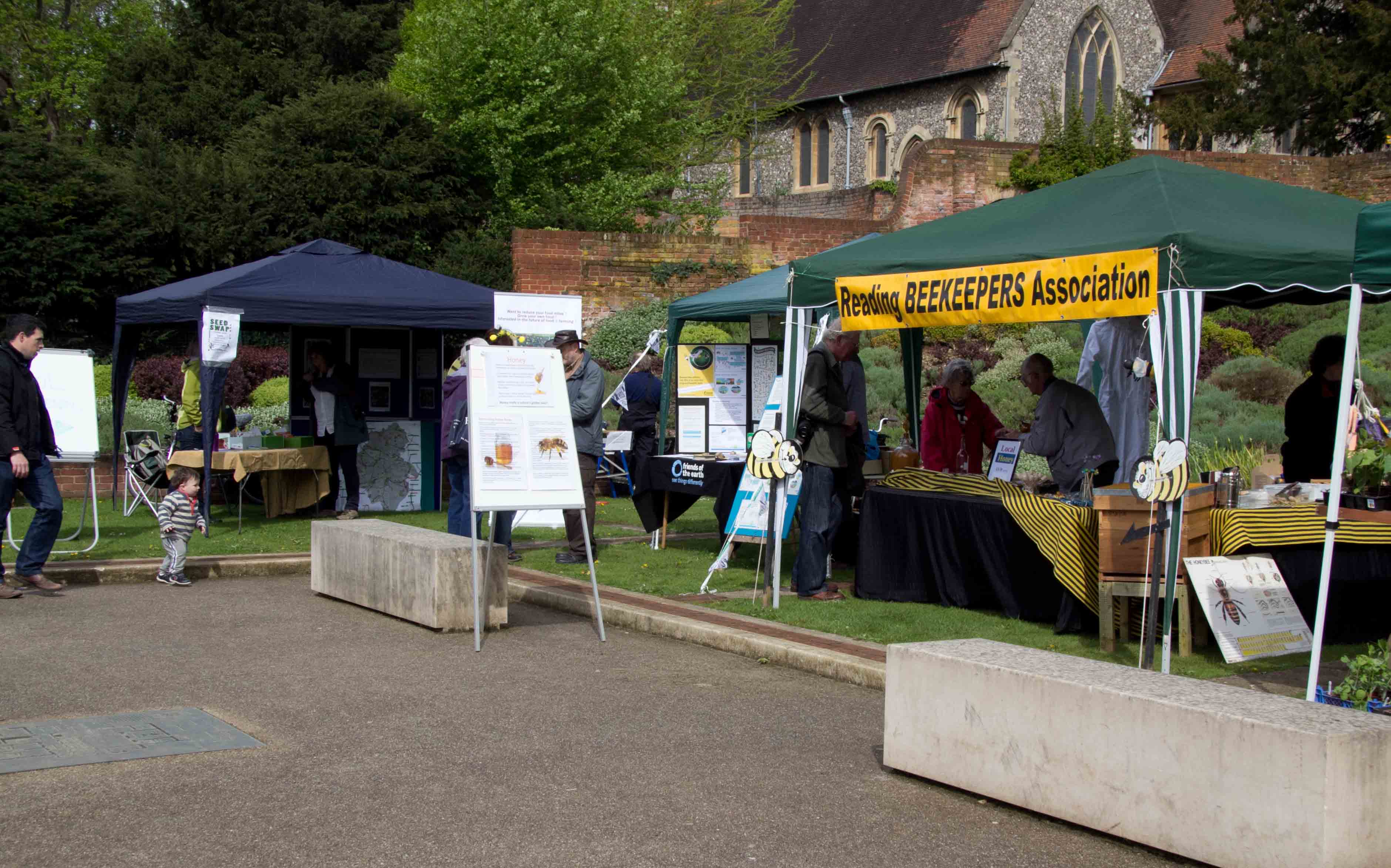 If locally produced honey was what you were looking for then you were in luck for Reading's beekeepers had just what you wanted. They also provided an opportunity to learn more about honey bees and to see them at close quarters, and were more than happy to answer questions.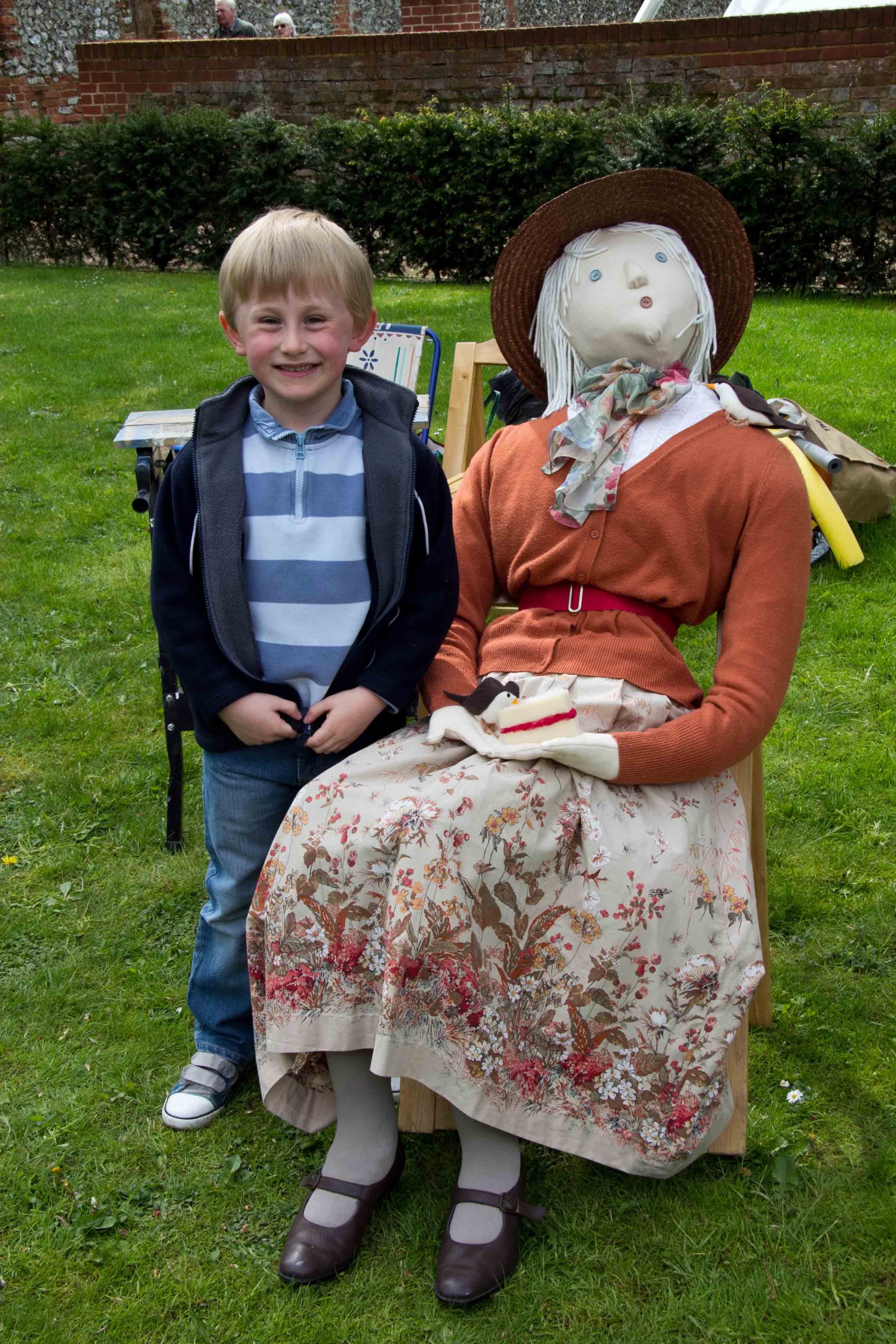 The scarecrows proved a great talking point and Hester and Mike whose creation they are, demonstrated making them using bean poles. The scarecrows had been on display at the previous week's Easter Egg Hunt at Caversham Court and will be making appearances at various events at the site throughout the summer.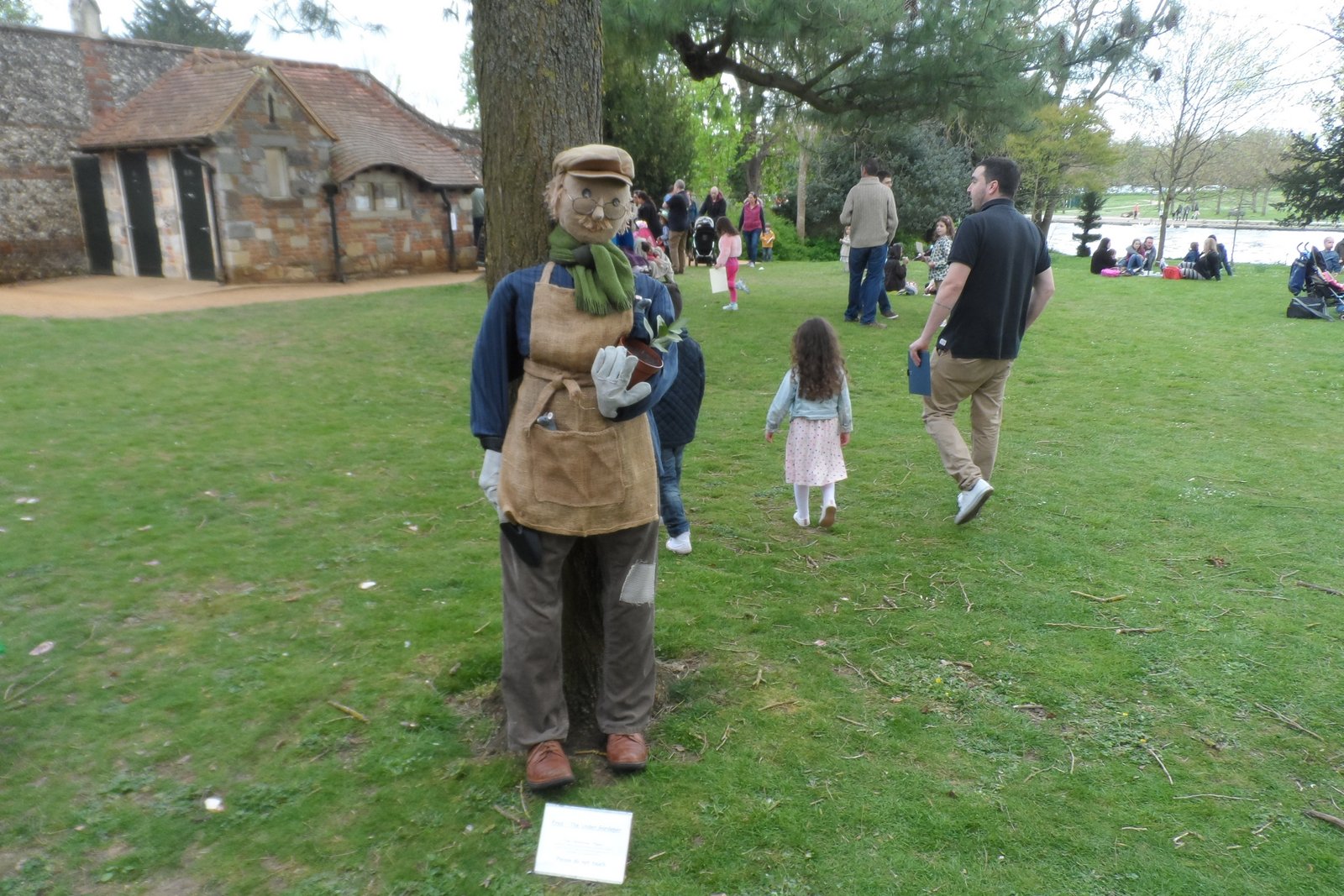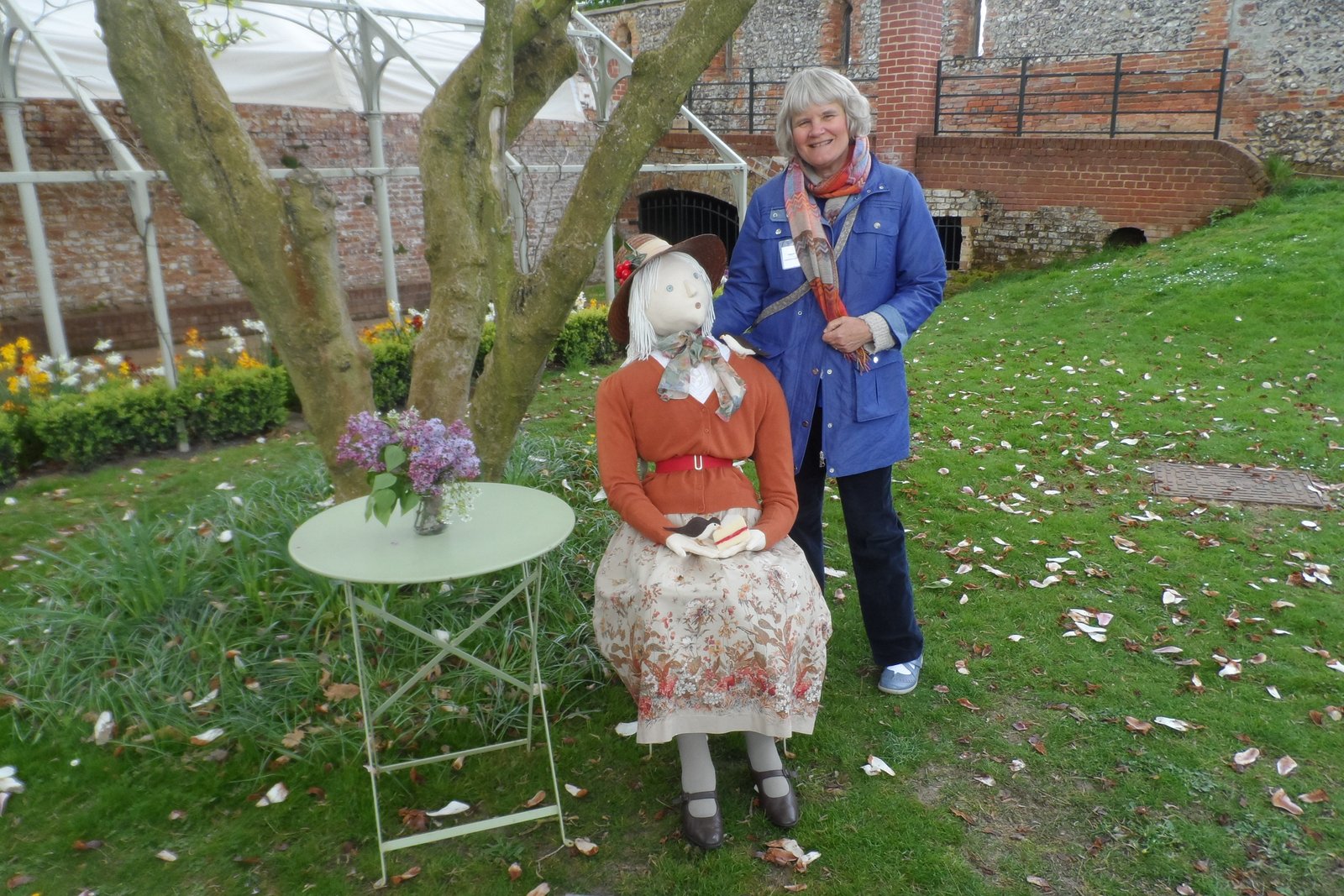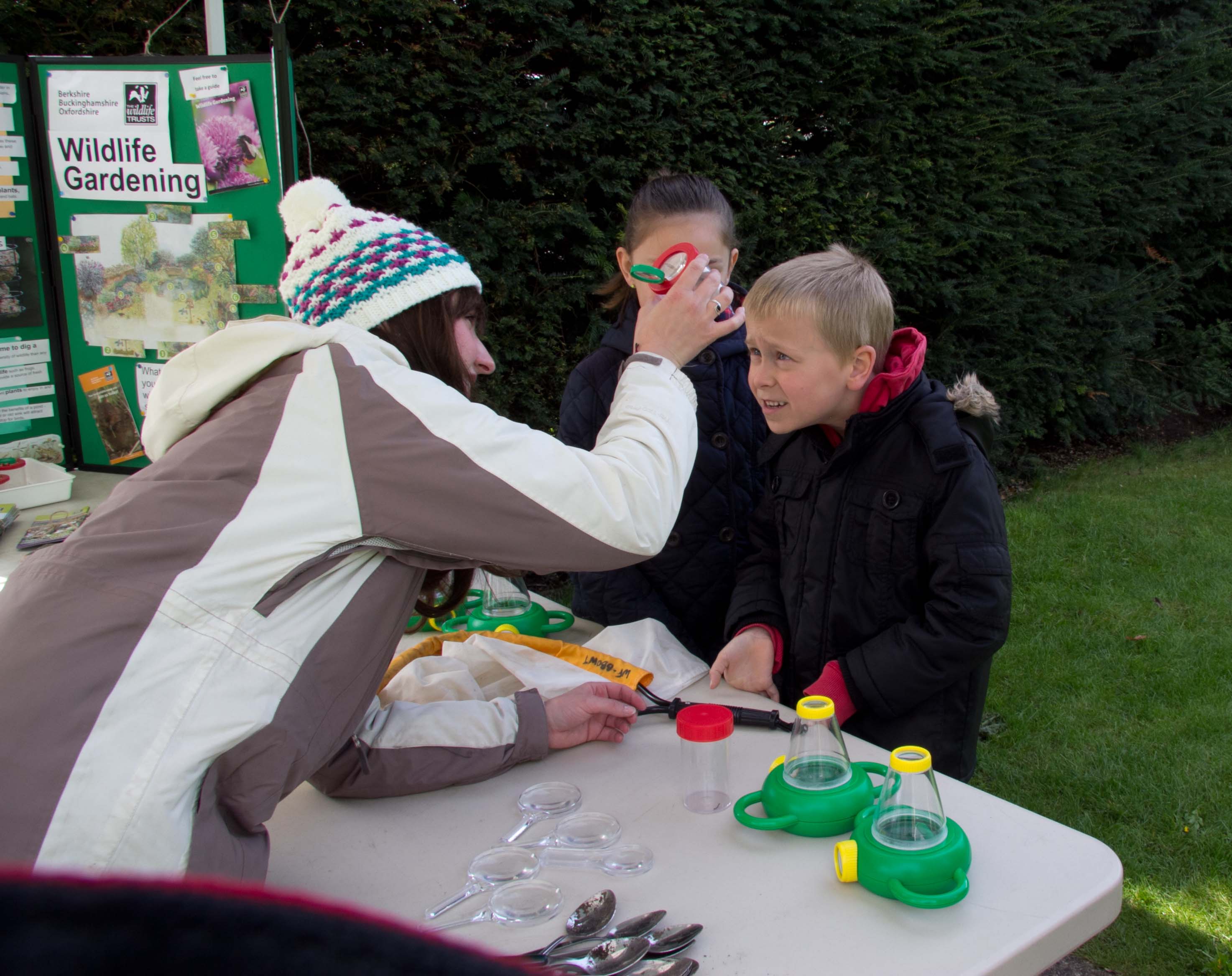 Let's take a closer look at some of the creepy crawlies to be found in the garden.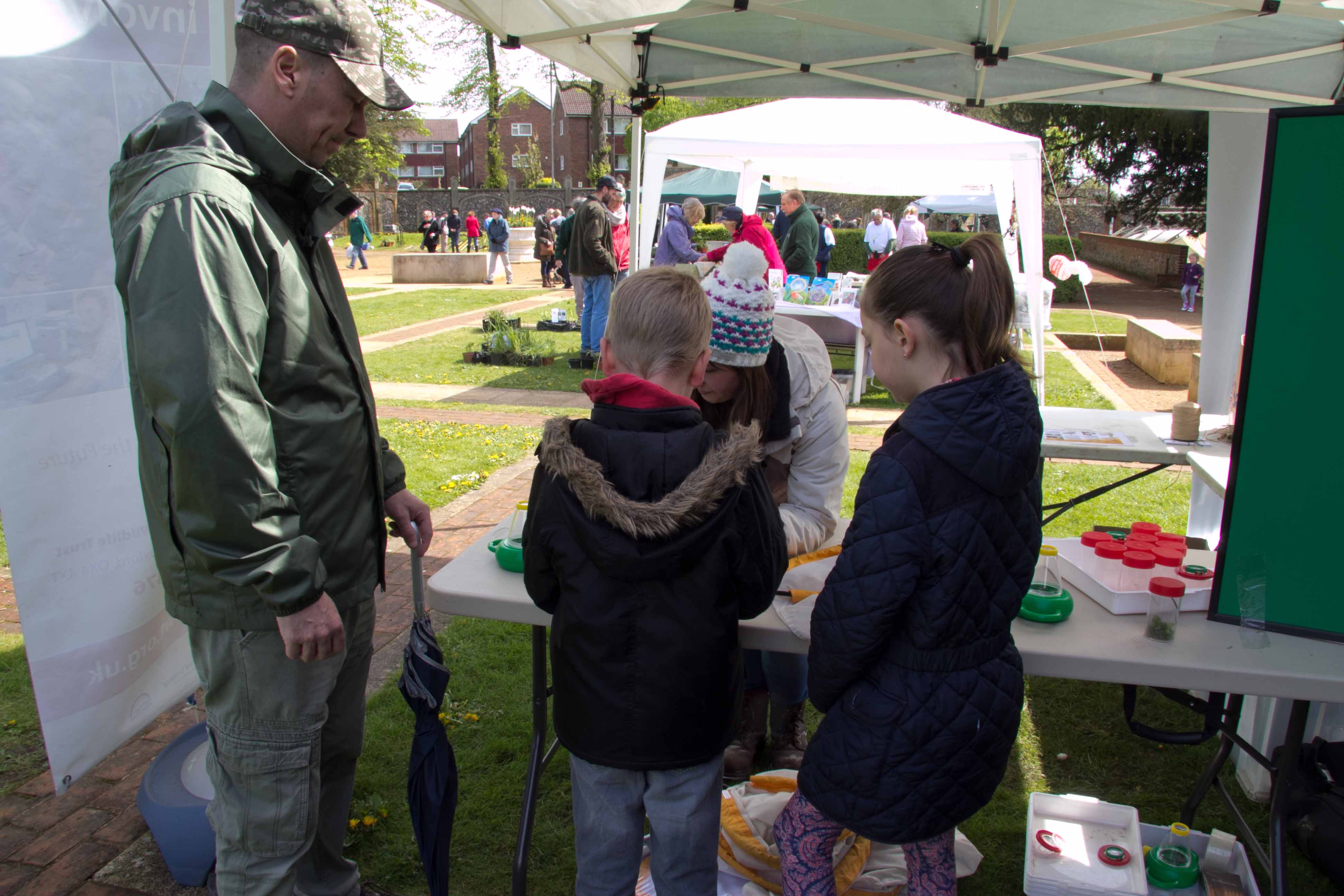 Even Dad might learn something! And yes, the sun did shine!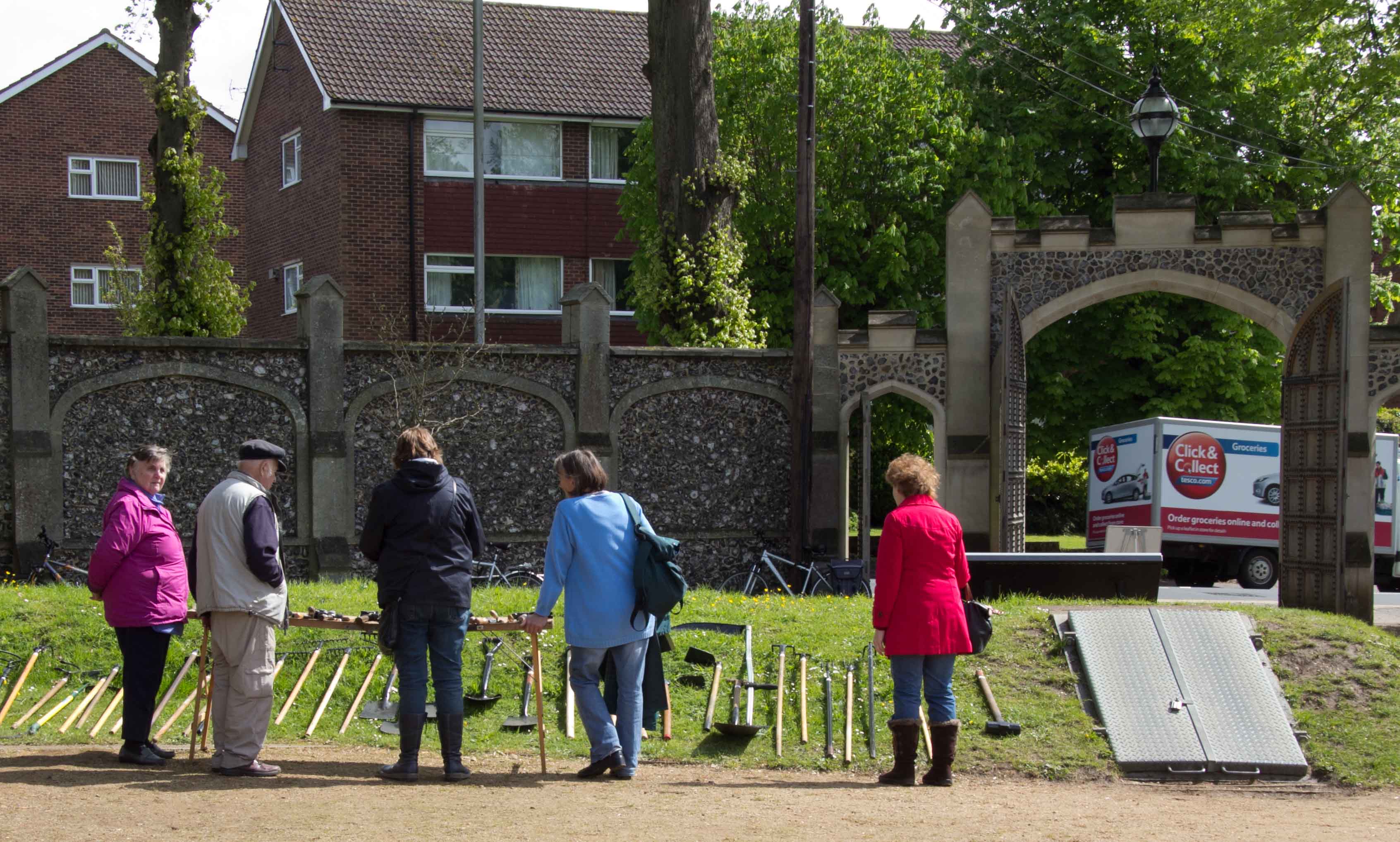 In need of garden tools, new is not always best and there is always interest in the selection of reconditioned items available to purchase. Elsewhere on the site, Peter Wheat was doing a brisk trade sharpening tools (in return for a small donation).
We hope all who joined us, both participants and visitors, had a successful and enjoyable day and will be back next year for another Bean Pole Day.
Our thanks to Rachel for the photographs, to see more of Rachel's work visit Rachel Paton Photograph at www.patonphotography.co.uk

Thanks also to Farmer and Dyer for their sponsorship of the event.
Press coverage:
getreading - 24th April
getreading - 2nd May
Also Karen Blakeman's photo's on Facebook.
Created: Tuesday, 6th May 2014
Photographs: Rachel Paton
Additional scarecrow photographs: Hester Casey and Mike Lelliott