CROW (Conserve Reading on Wednesdays)
Wednesday, 24th April 2013
Ufton Court, Ufton Nervet ~ Woodland management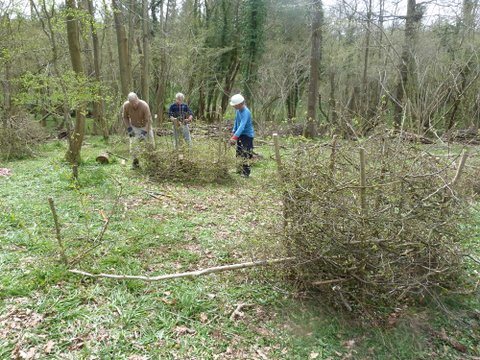 This was our second visit to the site to work in an area of woodland used by children visiting Ufton Court for activities such as building dens. Prior to our initial visit some trees had been felled in this area and unwanted material from the felling remained scattered on the ground, it was our task to create log and brash piles from the waste and to re-establish paths, as well as to coppice some of the remaining hazel.
During the first visit it became obvious that previously coppiced hazel was suffering badly from deer damage, some stools having died. The purpose of this second visit was to protect the surviving coppice stools by building hurdles around them, and to attempt to propogate more hazel by layering.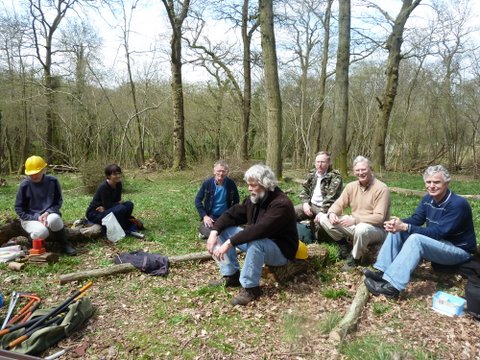 With us for the day were Judith Q, Mary, Terry, Alan, Peter, Barry K and Barry F together with John, Mike and Phil and Judith O behind the camera.
Footnote
The history of Ufton Court can be traced back to the Doomsday book, where it is referred to as Offetone, with land for five ploughs, forty acres of meadow and wood for one hog. Today it runs a programme of educational visits for schools from nursery through to secondary, as well as adventure activities aimed at children and young people from deprived backgrounds. It also provides a setting for weddings and other events. For more information visit www.uftoncourt.co.uk.