CROW (Conserve Reading on Wednesdays)
Wednesday, 23rd October 2013
Wargrave Chalk Pit ~ Creating wildlife pond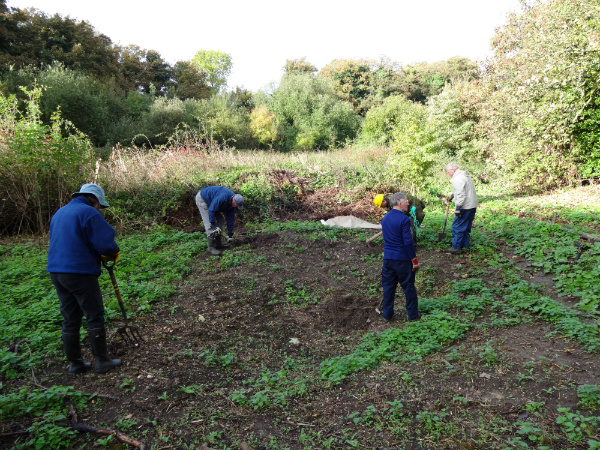 Wargrave Chalk Pit had been saved from development thanks to the efforts of a number of local residents who recognised the importance of the site both in terms of its wildlife and geology. In recognition of their work they were awarded the runners up prize in the 2012 Dorothy Morley Conservation Awards, a scheme run by the Berks, Bucks & Oxon Wildlife Trust (BBOWT) to promote conservation projects which benefit both wildlife and the local community. The Friends of Wargrave Chalk Pit decided to use the prize to create a wildlife pond.
This was CROW's second visit to the site, the first was on 18th September when we had cleared scrub from the area where the pond was to be located.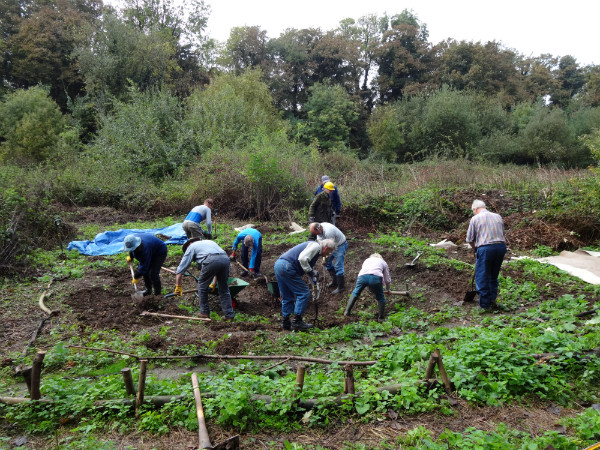 The first task was to excavate a hole where to pond was to be located, clearing away the remaining vegetation and any potentially damaging roots.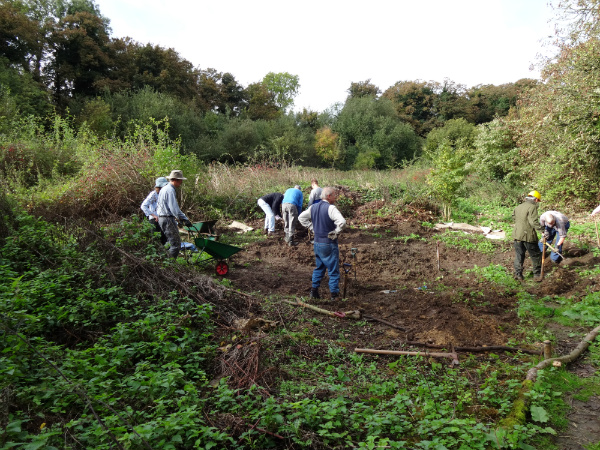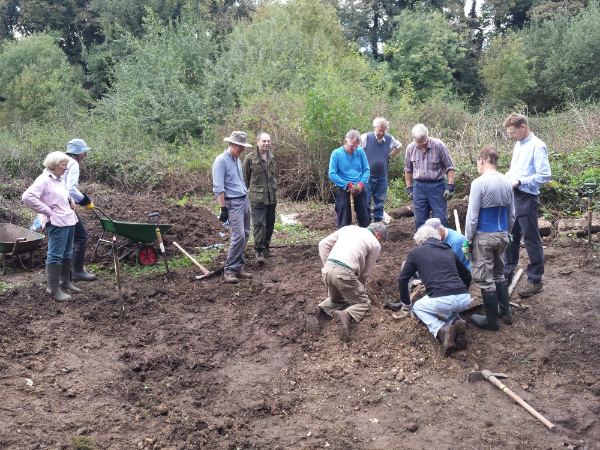 Hello, found something interesting?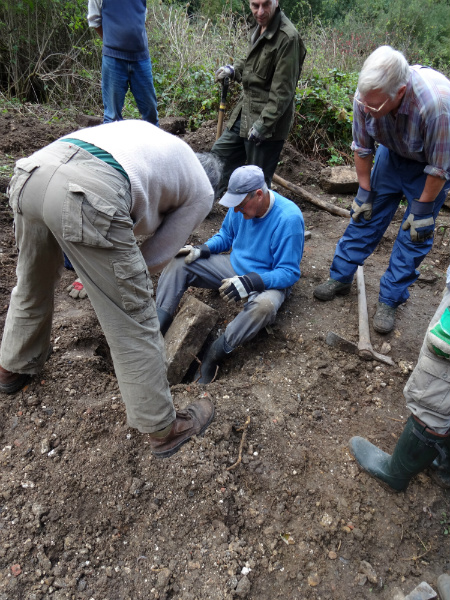 Unfortunately not, just a kerb stone buried where you would least expect to find one!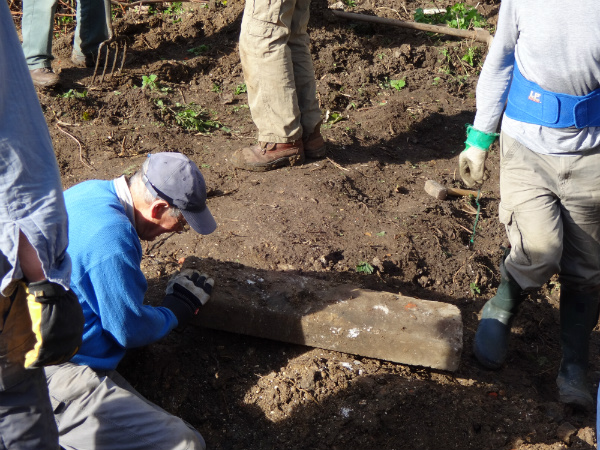 At last after much effort (it was a considerable weight) the stone was removed .....
.... and the preparation could be completed.
Next an underlay was placed over the area to protect the pond liner from any remaining stones or other shape objects.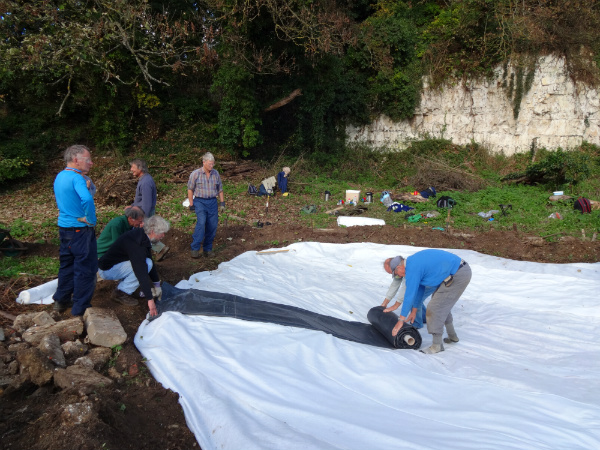 Then the lining must be laid. Because it is heavy and difficult to manoeuvre once unfolded it is well worth taking time to determine the initial positioning.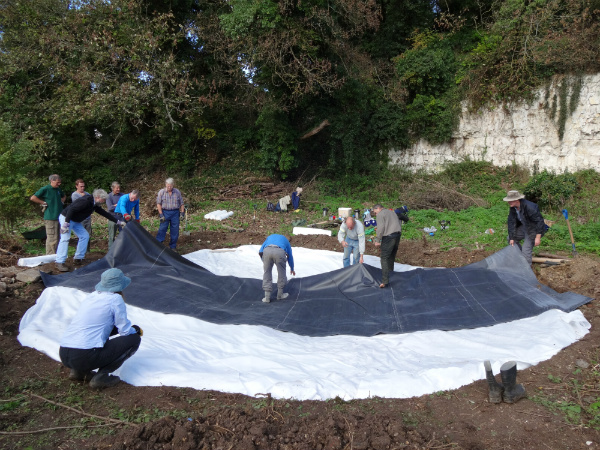 Looking good!
In fact looking very good!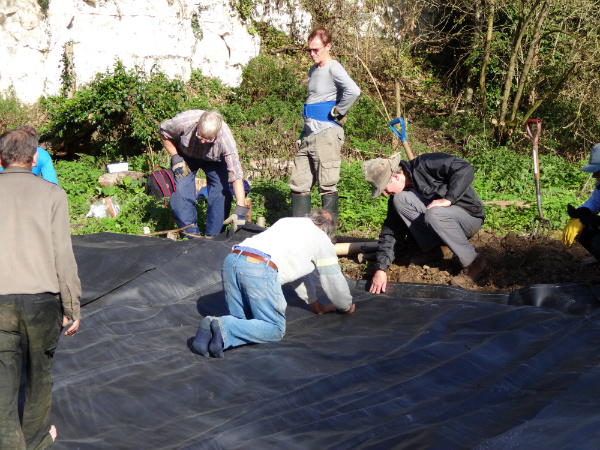 Just the edges to tuck in.
Finally more underlay goes down before covering with a layer of soil to provide a natural base to the pond.
By now some of the volunteers are beginning to feel a little weary so take the opportunity to have a rest while holding the underlay in place. Note the pillow. Never let it be said we don't care for our volunteers!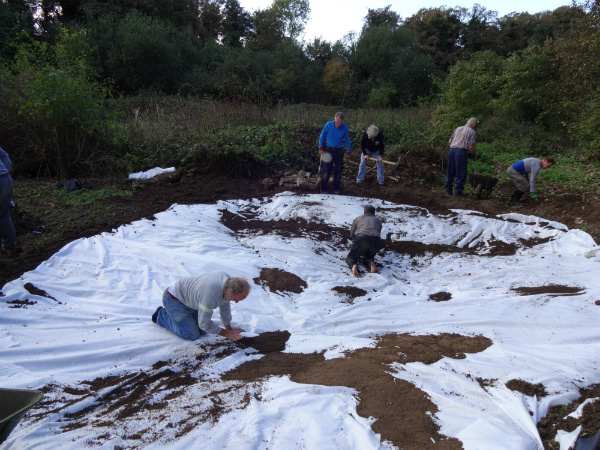 Back in goes much of the soil we had spend so much effort digging out.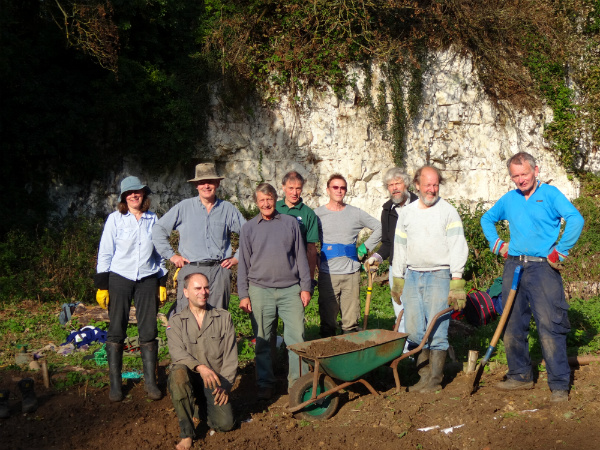 Our thanks to the survivors Trish, Phil, Mike, John, Steve, Mike, Alan, Peter and Terry along with the departed Dave, Barry, Judith and Rodney while not forgetting Simon behind the camera.
Created: Tuesday, 4th March 2014
Photographs: John Lerpiniere, Simon Allison