CROW (Conserve Reading on Wednesdays)
Wednesday, 26th November 2008
Rushall Farm, Bradfield ~ Coppicing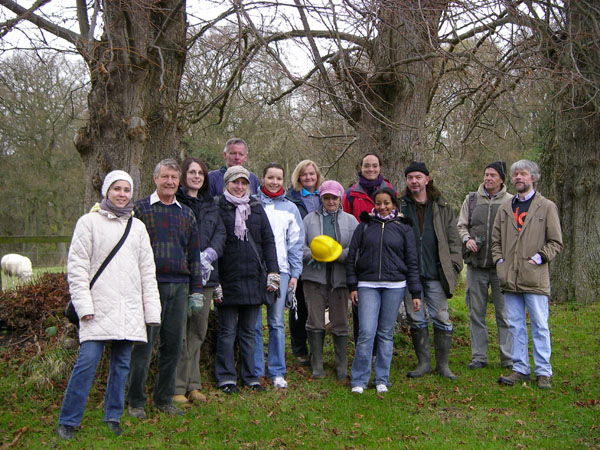 The task was to coppice hazel to obtain stakes and binders (hetherings) for use in hedge laying. Coppicing means the trees were cut back to the stump (or stool) which will then re-grow from dormant buds. To protect the re-growth from damage by browsing deer, the stools were covered with brash - the waste material (twigs and small branches) from the coppiced trees.
Trees can be coppiced repeatedly over many years, how often depending on the species and rate of growth which will vary according to local conditions. All broad-leaved trees such as hazel, ash and sweet chestnut can be managed in this way.
Traditional management techniques such as coppicing and hedge laying, help maintain the character and wildlife of our woodlands and countryside.
We were joined for the day by a group of enthusiastic volunteers from Novotel, who we thank for all their hard work. They made it a very enjoyable day. We would also like to thank the Accor Hotel Group, of which Novotel is part, for giving their staff the opportunity to volunteer with us, and Connect Reading for arranging the day.
Lunch time group photo by Clare Wright from Connect Reading. From the left: Adrienn (Novotel), John (CROW), Kelly (Novotel), Eva (Novotel), Terry (CROW), Veronique (Novotel), Ruth (CROW), Judith (CROW), Marion (Novotel), Makeda (Novotel), Cliff (Rushall Farm/CROW), Mike (CROW) and Alan (CROW). Two CROW volunteers, Jill and Margaret, managed to escape the photo session.