Saturday, 30th April 2011
Caversham Court ~ Bean Pole Day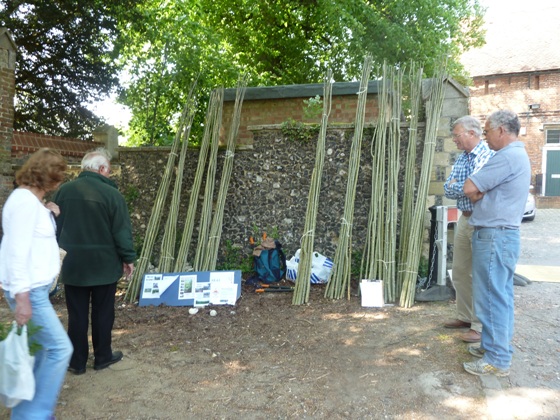 For the second year Econet organised a 'Bean Pole Day' event at Caversham Court, an idea inspired by National Bean Pole Week, 23rd April to 1st May this year, an annual event organised by the Small Woods Association to promote the sustainable management of small woodlands and the use of woodland products.
This year as well as selling bean poles and pea sticks obtained locally as part of our coppicing activities .....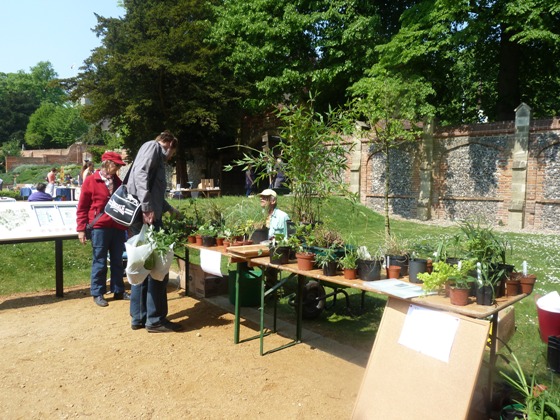 .... we also had a plant swap stall.
A number of other local groups were also invited to the event including RSPB, Berkshire, Buckinghamshire and Oxfordshire Wildlife Trust (BBOWT), Caversham and Tilehurst Horticultural Associations, Reading and District Beekeepers, Food4Families and Ways and Means. Local willow weaver Christine Brewster and her helpers joined us to make plant supports and there was a stall selling renovated garden tools. Unfortunately guided tours of the gardens and allotments did not happen. Refreshments were provided by volunteers in support of the Duchess of Kent Hospice - unfortunately they ran out of cakes, perhaps someone should have told them when conservation volunteers are around you can never have too many cakes.
The day benefited from glorious weather and seems to have been regarded as a great success by all who participated.
Many thanks to everyone who helped and in particular to Anne, Judith and Tricia for making it all happen.